Your best friend, cousin, or maybe your sister is getting married? She has honored you with the responsibility of being her bridesmaid. You are excited and don't want to let her down. You want it to be an extra special day for her. There are many roles and responsibilities attached to being a maid of honor or chief bridesmaid. One is to make sure the bride is supported throughout the wedding preparation and throughout the big day. Another is making sure the bachelorette party is outrageous fun. Probably the most daunting responsibility is giving one of the best maid of honor speeches that will be remembered for all the right reasons. Well, here is the good news. You do not have to complete a literary training course to win the heart of your sister or best friend when you deliver your maid of honor speech. All you need to do is relax and take your time to prepare an original, true from the heart maid of honor speech with our help. It's all in the preparation.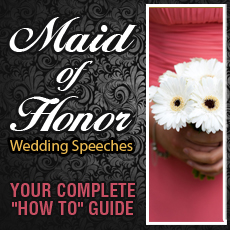 Firstly, the bridesmaid speech is followed by the best man speech which is supposed to be packed with humor and excitement. Don't get left behind.  Consolidate your speech by adding a subtle touch of humor. You have to be jovial, yet hold up the integrity given the audience.
Remember to introduce yourself. There are often people who are invited and are seeing the bride and you for the first time. Your speech should make a good first impression on the guests and the family of the groom. Purity is the serene essence. Love and respect for the couple must reflect from the bridesmaid speeches.
Given below is a sample of a simple bridesmaid speech. Here you can find 25 Bridesmaid speech examples
Bridesmaid and Maid of Honor speech example – a great starter
"Hello everyone, my name is Amy, Jessica's best friend and her loving twin sister. I am honored to be Jess' maid of honor and the pleasure of giving this important maid of honor speech. Today my tribute is to my sister on her wedding day. Today I publicly acknowledge the fact that she has been a marvelous sister, a loyal friend, and is a beautiful bride. Without her, I would have been incomplete. Twins have an inexplicable connection which will last forever.
Whilst we are twins, we are very different. I have always been very practical and a bit crazy and Jess has complimented me as she has always very reliable but a dreamer.  She always dreamed that she would meet a wonderful man and one day get married. Chase, her dreams came true the day she met you. I still remember her telling me about that day and how she knew you were the one from the moment you met…even though you accidentally dropped your glass of red wine on her skirt! Chase, I am touched by the awesomeness of the love that you have with Jess. I am confident in saying that Mom and Dad are also so pleased to be welcoming you into our family. Read more